COLDSTREAM Collection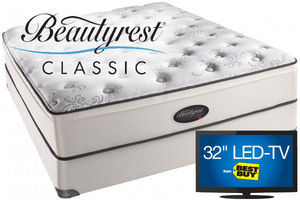 Information
Where Pocketed Coil® technology begins…

An innovation developed by Simmons, Pocketed Coil® springs are the secret to undisturbed sleep. Unlike the wire-tied springs in ordinary mattresses, Pocketed Coil® springs are not joined at the top or the bottom. Instead, high carbon steel springs are pre-compressed and placed in durable, non-allergenic fabric encasements. This allows the Pocketed Coil® springs to adjust individually to the weight and contour of your body. Since adjacent springs aren't tied together, there's no chain reaction of movement when you turn or move during the night.

It's our job to make sure you love your new mattress. Ask about our exclusive "Gardner-White Best Sleep Guarantee™."


Coil Unit:
– 800 Density Beautyrest® Super Pocketed Coil® Springs

BeautyFeel™:
– BeautyPlush™

Edge Support:
– Total Surround BeautyEdge™ with QuantumLock™

Quilt:
– FR Fiber
– 5/8" PurFoam™ Plush
– 1" PurFoam™ Plush

Upholstery:
– 2" PurFoam™ Firm

Coil Support:
– 1/2" Energy Foam™

Foundation:
– Triton® Foundation

Warranty:
– 10 Year Warranty

Buy now and you receive a 32" LED-TV. Offer valid with set purchases only (mattress & matching foundation).

Click here to see the Beautyrest® Platinum® Foundations.
Products in the COLDSTREAM Collection
Products
There aren't any products in this collection.