The following article is written by David Perry and published on FurnitureToday.com.
Furniture/Today names 3 Retail Giants of Bedding
David Perry — Furniture Today, April 15, 2016
HIGH POINT – Gardner-White, Best Mattress and US-Mattress have been named Retail Giants of Bedding for 2016 by Furniture/Today.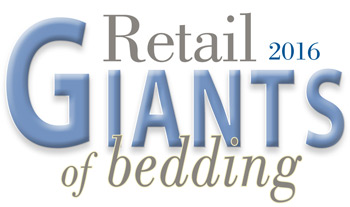 Those mattress retailers will be honored at a gala awards dinner during Furniture/Today's upcoming Bedding Conference, set for May 10-12 at the Westin LaPaloma Resort & Spa in Tucson, Ariz.
The awards dinner is on the evening of May 11.
Furniture/Today will also make a special presentation during that dinner to Gary Fazio, the recently retired CEO of SertaSimmons Bedding. The newspaper is presenting Fazio with its first Lifetime Bedding Achievement Award.
Auburn Hills, Mich.-based Gardner-White enjoys success with its team of comfort-focused mattress experts, who regularly talk about the importance of better sleep. That retailer, headed by Steve Tronstein, CEO, operates nine stores in the metro Detroit market.
Las Vegas-based Best Mattress, operated by home furnishings veteran David Mizrahi, general manager Joe Graziano and operations manager Christi Cassidy, has found a winning edge in the highly competitive Las Vegas market with broad selection, a veteran sales force, and a commitment to service. It operates almost two dozen stores in the Las Vegas, Mesquite and St. George markets.
Brighton, Mich.-based US-Mattress was a pioneer in online sales of mattresses, a category now enjoying a retail renaissance.
Founded in 2001 by Joe Nashif and Richard Winkler, US-Mattress bills itself as "America's No. 1 online mattress retailer," but the retailer also operates six mattress stores in Michigan and one home furnishings store in North Carolina.
"These three retailers represent three different retail models enjoying success in the mattress industry these days, an indication of the strength and vitality of the mattress category," said Andrew Gross, executive vice president of marketing for Serta, which is sponsoring the awards dinner at the Bedding Conference.
The retailers will be honored with tribute videos and will be presented with a Retail Giant of Bedding award.
"Serta grows its business by helping its retailers grow their business," Gross said. "We salute these retailers for their accomplishments, and we look forward to supporting all of our retail partners on their paths to success in 2016 and beyond."
For more information or to register for the conference, contact Heather Thompson at hthompson@pbmbrands.com. Attendees can also go to http://beddingcon.com/
Original article here!